Crave
Hey You
Raw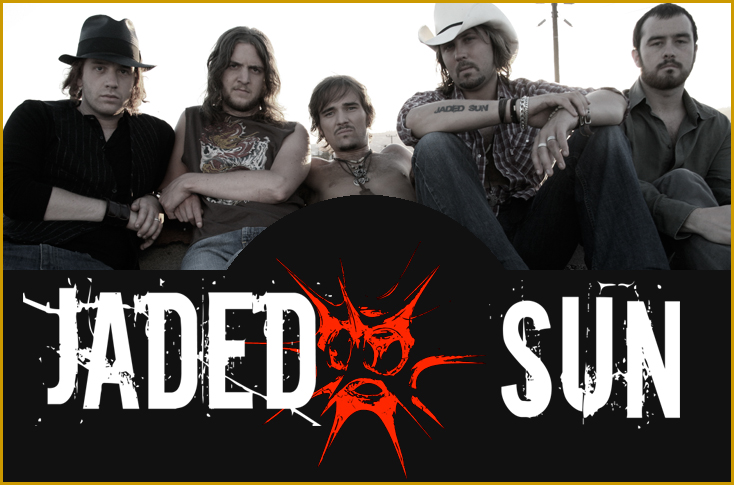 John Maher - Vocals
Sean Gosker - Guitar
Eorann Stafford - Guitar
Damien Kelly - Bass
Gavan Murray - Drums
Formed in 2003, Jaded Sun went through the paces as most other bands do, gigging and saving to enable them to record their critically acclaimed debut EP "Raw" in 2004. The EP titled track "Raw" launched their rock profile to a national stage becoming the most downloaded track on Ireland's premier download charts. The track broke all down load records in Ireland, staying at the top of the charts for almost 30 weeks.

In May 2005, the band straight into the studio with Ireland's top rock producers Chris O'Brien and Graham Murphy, Chris being known for his work with Aslan, Hot House Flowers, Adam Clayton and The Boom Town Rats.

"John (lead singer) is arguably one of the best lead vocalists have ever worked with or ever seen." Chris O'Brien

With the "Falling On The Fears" EP being tipped for number 1 by Larry Gogan on release in late 05, the band were making a name for themselves on the international scene, being asked to write the theme song for a movie remake of Apocolypse Snow, a cult snowboarding movie in the 80's, with Hollywood backing.

The band started 2006 running with a plethora of gigs topping the year with their amazing performance supporting Bon Jovi in Croke Park, showing them as Irelands hottest new rock band for years. (Jaded Sun are only the third Irish band ever to play in Ireland's largest music arena.)

Jaded Sun spent most of last year writing and finalising songs for their debut Album. With all concentration on the record, the band played only a few gigs in 07' including an outdoor headline gig in Zagreb Main Square, Croatia and the Hennessy Artistry, Ireland.

Jaded Sun have gigged extensively throughout Ireland and Europe (which included the Zwarte Cross festival in Holland and a comprehensive tour of Germany) after launching their debut album "Gypsy Trip" in March 2008 and have also performed at the Music Show Expo in the RDS.